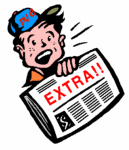 THE PIPELINE
.. is the Paradise Valley monthly newsletter published through October. To view an issue Click on the Month / Year below. The Pipeline is offered here as a PDF (Portable Data Format) document, which uses an Adobe Acrobat Reader that is included on most computers.
This years' Editor / Publisher for 2017 Pipeline is not listed? Please contact Sue Riff, Lot 86 with your ideas and contributions as we begin our 14th year...
The printed edition of the Pipeline is available free inside the Campground at the main outside bulletin board in the mail boxes area, or the outside bulletin board just over the bridge.
---
May 2017 Welcome back.. !
June 2017 Clean up !
July 2017 Golf Car Parade
August 2017
September 2017
October 2017 Winter is near...
---
April 2016 We are back.... !
May 2016 Clean up time!
June 2016 Warming up !
July 2016 Committee Members here
August 2016 A very long issue !
September 2016 Places to go.. things to see !
October 2016 Season wrap up + events ! Winterize!
---
May 2015 A beautiful new Season!
June 2015 It's HOT !
July 2015
August 2015 Renters, Residents & Sally Jones Day
September 2015 More... Renters & Residents
October 2015 How to Winterize !
---
May 2014 It's Spring!
June 2014 It's Summer!
July 2014 Happy 4th!
August 2014 It's Activities
September 2014 Election Results
October 2014 Good By
---
May 2013 Welcome Back !
June 2013
July 2013
August 2013
September 2013 Election Results
October 2013
---
June 2012 Election Results
July 2012
August 2012
September 2012
---
May 2011
June 2011 Election Results
July 2011
August 2011
September 2011 calendar
October 2011 calendar
---
May 2010 Election soon! New Candidates on pg 3 !
June 2010 Election Results
July 2010
August 2010
September 2010
October 2010
---
May 2009
June 2009 Election Results
July 2009
August 2009
September 2009
October 2009
---
May 2008
June 2008 Election Results
July 2008
August 2008
September 2008
October 2008
---
May 2007 We're Back Issue!
June 2007
July 2007
August 2007
September 2007
October 2007
---
May 2006 Election Issue!
June 2006 Election Results..
July 2006
August 2006
September 2006 [Covenant vote results - Bulletin Board]
October 2006
---
May 2005
June 2005
July 2005
August 2005
September 2005
October 2005
---